Be a Part of Carolina Collectibles
Join us for Carolina Collectibles on October 12, 2019
You can select an appointment time in one of the following time blocks:
9 – 11 a.m.
11 a.m. – 1 p.m.
1:30 – 3 p.m.
You will receive a voucher for each item you bring. For example, if you'd like to bring a table and a painting, you'll need two vouchers. Vouchers serve as admission to the event.
Get tips on which items usually bring the highest value
Everything But the House's shows you some items to look for when deciding what to bring to Carolina Collectibles.
For a donation of $125 to support PBS Charlotte, you will receive two vouchers to have two items evaluated. For a donation of $150, you will receive three vouchers to have 3 items evaluated. For more information please call PBS Charlotte Member Services at 704-330-5929 or email memberservices@wtvi.org.
Specialists from Everything But The House will be at PBS Charlotte to provide verbal valuations on hundreds of items.
When you arrive, PBS Charlotte staff and volunteers will check you in and tag the items you have chosen for valuation. You should be prepared to wait in line, but we'll have seating for those who need it.
You are encouraged to take notes on what the specialist tells you about your item (valuations are NOT intended to be used for insurance purposes). Typically, valuations last about 5 – 8 minutes with the specialist, depending on the item.
Check your attic for any family heirlooms including fine art, furniture, decorative art, Asian art, fine jewelry, coins, toys, etc. (If you're not sure, bring it!)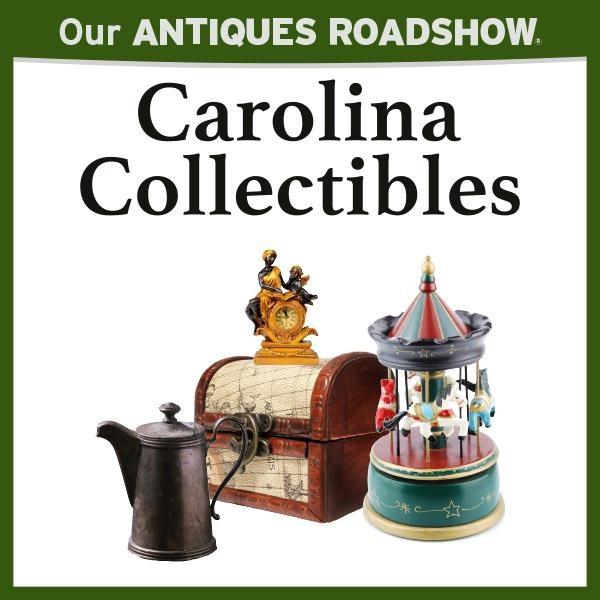 Watch Carolina Collectibles
2018 Carolina Collectibles
2019 Carolina Collectibles
Frequently Asked Questions
Will this be recorded for a future Antiques Roadshow program?
No, this is a PBS Charlotte event and is not affiliated with the Antiques Roadshow series. However, we will be recording to create our own special to air later.
May I call PBS Charlotte to obtain vouchers for my items?
You can call PBS Charlotte Member Services Monday – Friday (9 a.m – 5 p.m.) at 704-330-5929. Just let our staff know that you'd like to attend our "Carolina Collectibles" event.
Will anyone be available to carry my items inside?
Due to our insurance liability, PBS Charlotte staff and volunteers will not be able to handle your items. However, we will provide dollys and industrial carts for your use.
May I bring a guest?
Certainly! Your admission is based on the number of vouchers you choose to receive as opposed to tickets for individual people. We invite you to bring a guest, especially to help carry your items.
Are firearms allowed?
No. Due to our insurance liability, PBS Charlotte CANNOT accommodate firearms on our property. Please bring an alternate item.
If I'm not sure what to bring, what should I do?
Feel free to contact us via phone or email. We may ask you to email us images of your item(s) which we can forward to Everything But The House representatives for their recommendation(s).
What type of items do people bring?
Typical items include chairs and other small furniture, plates and dishware, vases, jewelry, paintings, dolls and a plethora of other unique memorabilia. If you have a larger item, please call or email us to discuss the options.
Where should I park?
PBS Charlotte has plenty of free parking.
For additional questions, call PBS Charlotte Member Services at 704-330-5929 or email
MemberServices@wtvi.org
and reserve vouchers for your items.